Wouldn't you like to take a relaxing stroll along the oldest freeway in the world? It's not the busiest freeway – that would be the 405 – but it's still three or four lanes of hurtling steel. Along the east edge of the southbound side of this old freeway is a path for pedestrians, between the junction to the 5E and Amador Street. Every time I drive past, I wonder who it is intended for. I've never seen anyone on it.
Is, or was, the City of Los Angeles so concerned for pedestrians that it provided this odd little walkway to get across the LA River? If you need to cross the river on foot, you could always go to North Broadway, and cross there on a handsome, well-maintained, sidewalk.
I grew up a New York pedestrian; I first crossed the street unsupervised in 1960 at the age of 4 — I wandered off while all the adults were arguing about who was late and who was being a nudge. By the time they noticed that I was gone, I had already wandered into traffic on West End Avenue. They all came pouring out onto 72nd Street screaming my name. Someone shouted, "there he is!" and ran after me and scooped me up. It was very gratifying and exciting.
In the 60s and 70s, New York streets were dicey, and I developed street instincts, like 360-degree awareness, crazy-person avoidance, youth-looking-for-a-fight detection, and continual monitoring for escape routes.
This last skill would make me avoid this walkway along the 110, because there's no way to run if two rival gangs approach each other in a deadly standoff. At least on the Broadway bridge, you could run perpendicularly into traffic, and take your chances with the trucks.
I've been commuting from West LA to Pasadena for five months ten years now (and for an additional eleven months about two years ago), and I've become obsessed with these strange, ramshackle staircases that go down to the freeway, snaking through the brush. Some of them, like the one on Solano Avenue, seem to serve the purpose of allowing pedestrian traffic to cross the freeway. There's a school nearby, and it makes sense to let the students who live just 150 feet across the freeway walk across. Google Maps seems to think you can do that, but when I look at the satellite view, I don't see a path. When I drive past, I get a glimpse of a railed-off walkway… I'll just have to go there and take a look.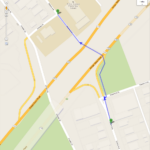 I see how you can walk to Amador St, which crosses above the northbound side of the 110, and then under the southbound side. But where's the fun in simply walking along an ordinary street, when you can walk on a barely used, falling apart, dangerous narrow path that is separated from speeding traffic by a chainlink fence? And that's probably populated by fringe elements of society?
Maybe I could even do it with a nice camera around my neck? Hmmmm… That's so smart!
As far as I can tell there are four ways to get onto this mysterious walkway (click on thumbnails for full-sized pictures):
Please note that all of this can be considered more or less dangerous and I don't recommend it to anyone.
That said, I can't wait to try it.