When I was working in Lyon in 2017/18, an old love of Guignol was re-awakened. I saw Guignol shows when I was a little child in the Bois de Boulogne in Paris. And in the 5th grade, my teacher, the beloved Mme Benzaken, gave me a book about Guignol. It had puppet show scripts and instructions for making the puppets and theaters. I have long since lost that book and still look for it whenever and wherever I can.
In Lyon, I went with my wife to a traditional Guignol theater and saw as old-fashioned a show as I could find. In other words, not a show about how Guignol saves Christmas from a hacker who scrambles Santa's GPS… yes, they do that. No shade, but not for me. I'll bet the kids love it, and that's what matters, after all.
Guignol was born in the French Revolution and I think embodies its spirit as well as anything. He's a working man — a weaver in the silk mills of Lyon — and a prankster who scorns the aristocrats. Guignol and his gang — his best friend Gnafron, a red-faced, blue-chinned alcoholic with a crushed top hat; his girlfriend Madelon; and the rest of the supporting cast — are beloved characters in France in general and Lyon in particular.
In Lyon, I encountered the below small poster stuck all over the bottle recycling bin.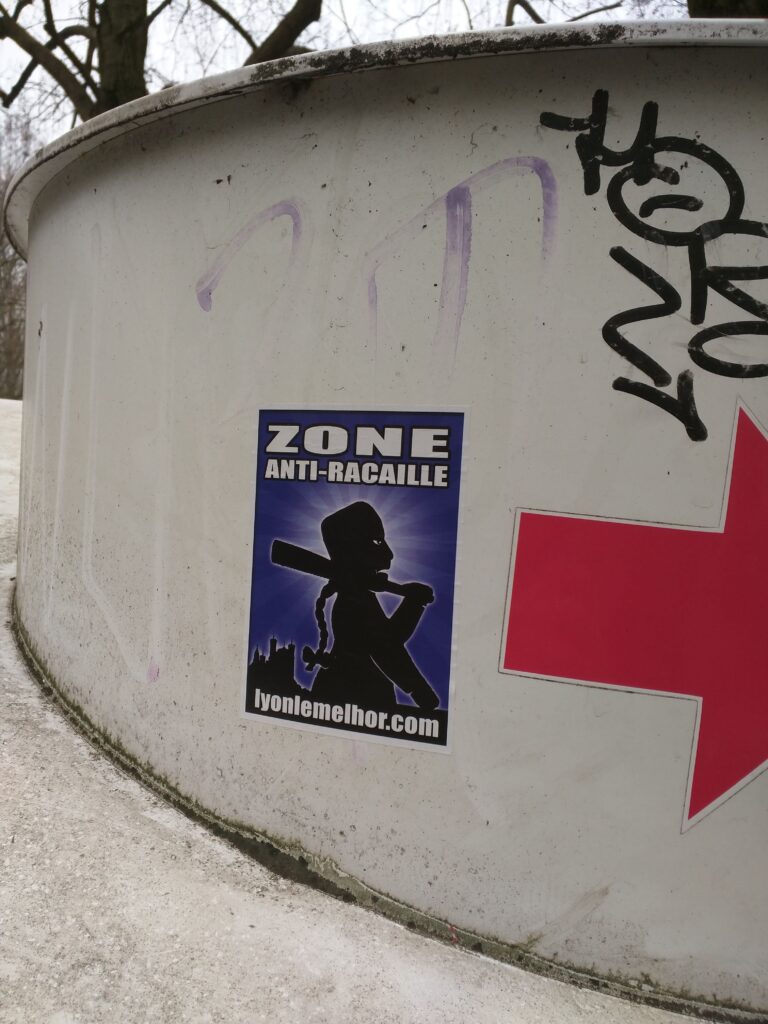 I took the picture and thought, Fun! I wonder what that website is. Clearly, I didn't look carefully at his angry expression, and wasn't familiar with "Lyon le Melhor!" which, it turns out, is the war cry of the city. It translates as "Lyon is the best!" or We're #1!
It turned out that the website was for a nativist, anti-immigrant group, and the image is a threat. This made me very unhappy. A perhaps ironic (not sure if that's exactly right, I wasn't an English major, but it's nearby) sidenote is that when we went to the Guignol show, there was a mom with her little boy. Not so strange, but the mom was Islamic and wearing a chic black hijab, and looked hilariously like Guignol in his traditional hat.
I much prefer the Guignol below: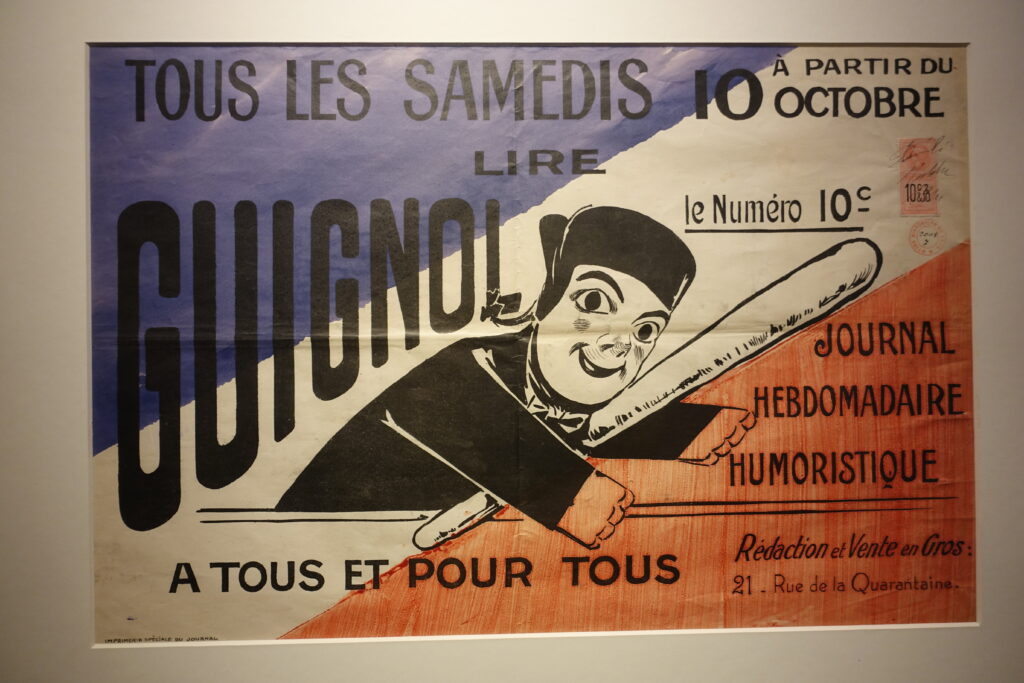 The motto, "A tous et pour tous," means "To all and for all," and is much more what I expect from a puppet of the people.
I was pleased to just discover now that the website on the mean little anti-immigrant poster is now available… Maybe I'll buy it?
⁂